I started four new French and Spanish tv shows this week. Three look good, while I've already deleted the fourth from my queue.
Pablo Escobar, El Patrón del Mal
(Netflix) - This is a 113 episode Columbian telenovela about the life of Escobar. I enjoyed the first two episodes, and it feels down to earth and real. I don't know how I'll watch all 113 episodes, though - that's a serious commitment.
Narcos
(Netflix) - A US version of Pablo Escobar's life. It felt like an MTV Hollywood gangsta take on things. There was also an annoying English voice over during most of the first episode - even though this is supposed to be a Spanish-language series. This got great reviews; I thought it sucked.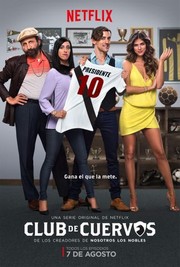 Club de Cuervos
(Netflix) - A brother and sister fight for control of a Mexican soccer club. The first episode was sexy and funny and smart.
Kaboul Kitchen
(MHZ) - A comedy about ex-pats in Afghanistan. I wasn't sure this was a good idea at all for a comedy, but there have been other classic comedies set in wartime ... so I gave this one a shot. I liked the first episode a lot.