A series of videos became viral in the Catalan language sphere a few months ago, originally uploaded on TikTok. I've been waiting, hoping they'd put it up on YT, but they never did (and I asked!) so I took the outrageous move of taking just two of these videos, uploading it and putting English subtitles on it. If you would like to see the full set, you can watch them on Twitter
here
.
The theme is repte de paraules (word challenge). One woman is from Amposta, a city in the south part of Catalonia, another is from Girona, in the north east part of Catalonia. The distance between the two is about 270km.
As you will see in these two videos, the differences in words and expressions are quite significant. The Girona dialect belongs to the Eastern dialect block, specifically of the Central variety, the Amposta dialect forms a subsection of the North-Western dialect block, closely related to the Valencian dialect block. In the following map, you can place Amposta in the Tortosí dialect area (sometimes called a dialect of transition between Valencian and Catalan).
Mallorcan is the dialect I speak and it's an Eastern dialect. So as expected the Girona dialect is far more similar to Mallorcan (galleda, escombra etc). But acotxar-se (Amposta), does resemble a Mallorcan word, acotar-se with the same meaning.
Here is another video, this time showcasing Valencian dialects, one person from Xàbia in south Valencia, the other from Benicarló in the north. Between the two, a distance of 260km. You can see more videos of this set by looking up #reptedeparaules + valencianes.
The Xàbia dialect is a Meridional dialect (green coloured on the map), the Benicarló dialect, at the topmost part of Castelló, forms a part of the Tortosí dialect (transitional dialect) like Amposta.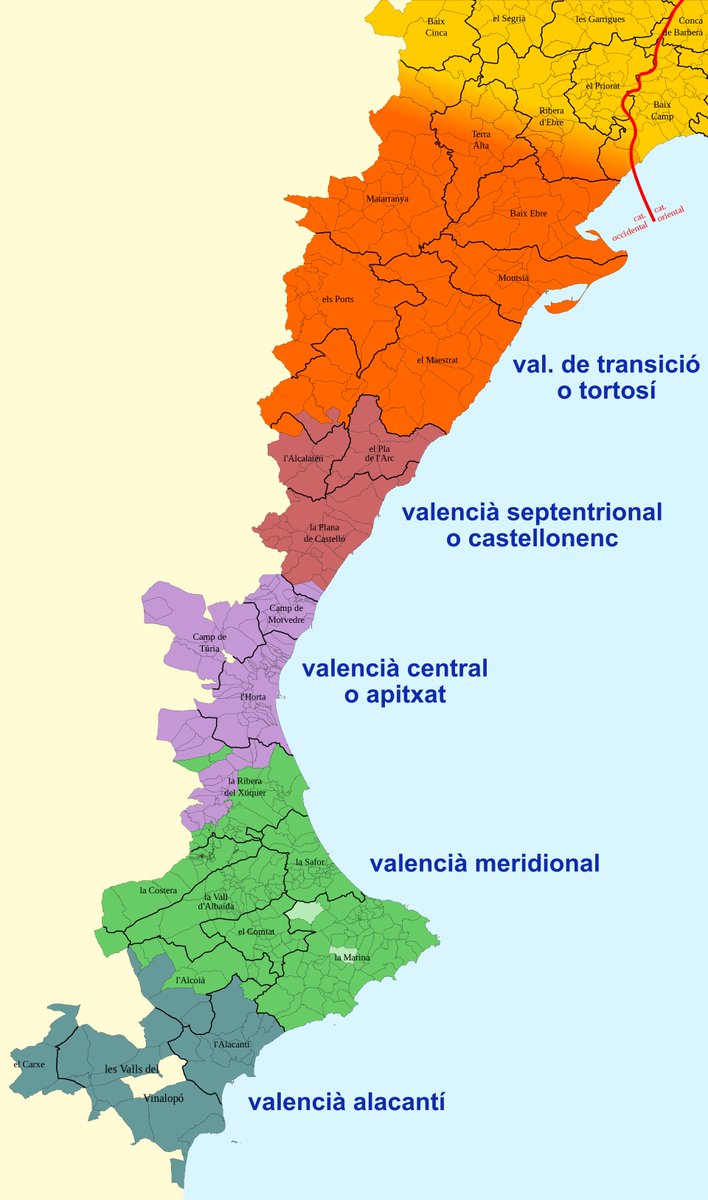 So, what's the point of all this? To celebrate dialectical diversity of course. Catalan is rich, very rich, and one can spend one's life learning about the differences from town to town, city to city, province to province, country to country where it is spoken.
There was a bit of a fuss in the comments as some people perceived the laughter of the Gironan woman as belittling the dialect of Amposta. What has to be taken into account is that the Girona dialect, as a Central dialect, is closer to the variety most televised in the national Catalonian press: many people think TV3 for example privileges the Central dialects, and does not use enough North Occidental dialects in Catalonia, or precisely the Southern dialects in the Terres de l'Ebre.
The Girona woman defended herself and said that that was not her intention at all, and I believe her. What I do find displeasing is that the Girona dialect examples are given first and the Amposta dialect is made to respond, which COULD suggest that the Amposta dialect is the one that is different from a dialect that is closer to the norm as opposed to
both dialects being different from each other which is the truth.
So maybe they should have alternated the order of presentation, to emphasise their equal funniness from each other.